I completed a project! Yippee!!
Last week, I shared lots of beautiful photos of pink and turquoise rooms. My teenage girls share a pink room and DESPERATELY needed their dressers/chests painted.
We found the perfect paint and now they keep their room neat and tidy.
Here are the "before" photos of my girls' dressers (actually -chests of drawers - I use the term "dresser" quite loosely). I tried to crop their laundry and hair dryer cords out of the photos, but to no avail.

Disclaimer: Please know that I realize my girls are messy and that I am the Messy Mama for allowing their rooms to look so horribly disgusting. Their college roommates will surely request a room change. They will probably both grow up to have their own pigsties with little messy children, all because I allowed them to live in squalor while they were teens. Their rooms were tidy when they were small - honestly!
Before - Dresser/Chest Number 1 - oldest daughter
This was actually my husband's chest when he was a kid.
Before - Chest number 2 -Middle Child.
Trust me - there are lots of scratches that you cannot see in this photo.


And here is a chair in their room that I never finished painting.....
We selected "Wintergreen Ash" by Laura Ashley Home (Valspar from Lowe's).
It took us one day and I should have done this 5 years ago.
Here is the desk chair in its new shade of blue.......
I also bought two new lamps - one at TJMaxx ($29)........
And one at Target ($15)......

We also ran across this cute fabric at Hancock's gigantic sale. ...
$3.50 a yard, decorator fabric. (Their current sale is fantastic.)
I covered a couple of their pillows and the chair cushion. The color is "right" but a little bit of floral goes a long way in a teen's room.
SO - I also ordered this aqua/turquoise fabric from Joanns.com and am patiently waiting on its arrival. Joann's Fabric is having a Waverly sale.
Once that arrives, I'll show you what else I sew with it.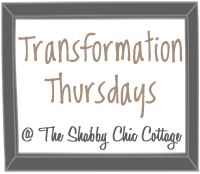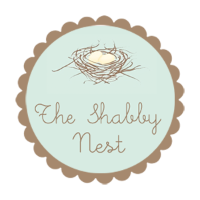 (Frugal Friday at the Shabby Nest)
Funky Junk Interiors Saturday Night Special!