This is a photo of a new bike shop that opened in Germany.
Unlike MY marketing plan, which is virtually non-existent.
My plan consists of "re-listing" an item or two on Etsy - in hopes that a future buyer will see the item as it is relisted and before it is quickly pushed to the bottom of Etsy by other listings. Pretty futile marketing attempt, now that I think about it.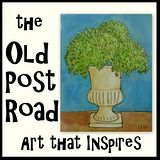 My personal goals for the week: (1) work on marketing plan (2) paint more art.
That is after I vaccuum up the dog hair (daily! Does anyone else have a lab that is shedding right now?!) and watch a few tennis matches (all three kids are playing tennis this season).