This cute Colonial Revival sits in our town's historic district.........



I have always liked the classic look of Colonial style homes -they certainly invoke a warm, family-oriented, patriotic feel. Several sources I read credit the Centennial Exhibition of 1876 for reviving the classic Colonial style home in America. Between World Wars I and II, the Colonial Revival style home was the most popular home style in America.

First, a little history on Colonial and Colonial Revival style homes.

Colonial Style architecture
The Colonists in America borrowed the Georgian architecture from England and modified it into what we know as the Colonial style. Georgian architecture was prevalent during King George's rule in England from 1711 until the Revolutionary War. The Georgian architecture of England (also popular in America until the Revolutionary War) was actually a reinterpretation of Greek and Roman architecture. Both Colonial and Georgian architecture were popular home styles, prior to the Revolutionary War.

Here are two examples of Georgian architecture..........

George Wythe House in Williamsburg, Virginia (c. 1750)



Governor's Palace,

Williamsburg

(1722)

Here is an early
Colonial
home (c. ) .......
Colonial Revival architecture
The Colonial Revival period existed in America between 1880-1955.
The typical Colonial Revival style house generally has the following characteristics:
1) Symmetrical, with a centered front door and equally spaced windows (Think of Five-Four-and a Door). A small number of Colonial Revivals have an off-center door.
2) Rectangular with a low-pitched roof and very little roof overhang
3) Columns, Pediments, or Pilasters around the front door
4) Multi-paned, double-hung window
5) Brick or Wood siding
6) Dentil Molding around the eaves (sometimes)

And Colonial Revival trim typically looks like this.........


Sketches found here.

Other sub-styles within the Colonial Revival style include:

Dutch Colonial (which I wrote about here)



Garrison Colonial ..................

Garrison Colonials have a second story that overhangs the first story.



Cape Cod .......

(Cape Cod
homes are one story -and sometimes have dormers.)

American Four Square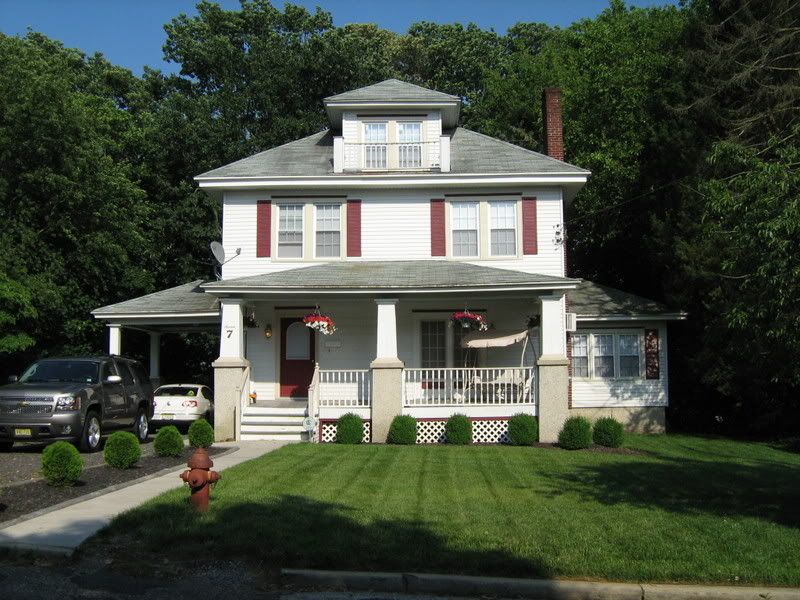 Here are some houseplan ads from the 1920's............



Southern Living currently has these Colonial Revival home plans available.......
Old House Dreamer
has featured several beautiful Colonials and Colonial Revivals, including this Colonial built in 1770 in New York..........
and here is a Colonial Revival in Missouri built in 1920.............


I could live here...........

This home is currently listed by Sothebys in Greenwich, Connecticut($12,750,000)



Here are two more Colonial Revival homes located in Cambridge Massachusetts.......

Have a great day!