Came across this pleasant bedroom in Southern Accents . I am addicted to 'green' - especially in bedrooms. This home is a lake-side retreat in Alabama.
I could not find any info on the fabrics or where the items in the bedroom were purchased - but this room could be duplicated fairly inexpensively. ........With the matchstick blinds (Target) ...........and drop cloth drapes could be hung, instead of fabric. .........A cotton blanket could be used for the spread. Our family has too many allergies to add the dust-catcher awning above the bed - so eliminating the awning would be a money saver!
The architect for this home was Bill Ingram in Birmingham (Alabama not UK). He has designed several homes in the southeast - most of them vacation homes like this one. This "farm house" shown on his website is absolutely perfect. Wish I had color picts to show you.
It is apparently in Alabama - on the crest of a small ridge or mountain.
The "farm house" appears to have been designed with the Civilian Conservation Corps in mind, or possibly a 1930's camp lodge. The small window panes - and LOTS of them, along with the use of cedar shingles and large timbers for posts harken back to the early 1900's (1900-1940) when "parkitecture" or rustic architecture was prevalent along lakes and in national and state parks, in the U.S. This rustic architecture involved local resources - wood, stone - and often included 'craftsman' or 'arts and crafts' detailing.
YES, Mama -I am posting MORE vacation photos ! Calm down, calm down!
front facade
main lobby
front porch rockers in rocking chairs
(For you die-hard architect types - Robert Reamer (Old Faithful Inn) also designed this lodge between 1910 and 1920.)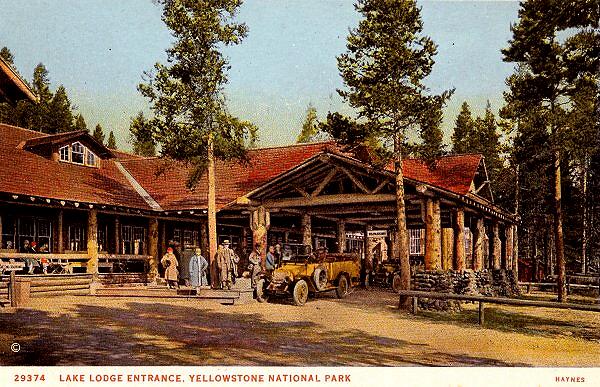 (The portico has been removed since this postcard was published.)
Please visit Julia, today, at Hooked on Houses to see what other bloggers are 'hooked' on.

And visit The Inspired Room Beautiful Life blog party to enjoy a beautiful life on other blogs!