I do not mind missing a few modern amenities if the historical surroundings are just right.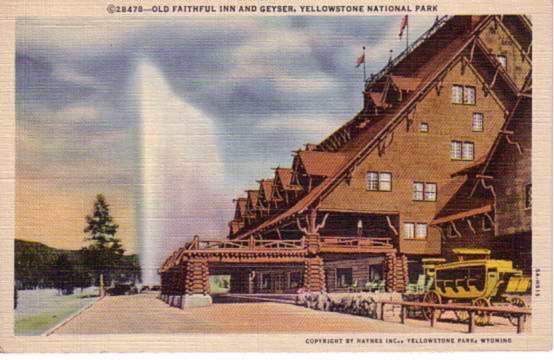 Photo courtesy of
Wyoming Tales and Trails


As I begged the front desk clerk to hunt for another night's stay (dreading a yet unseen cabin I had booked in the near future), he noted that a lot of guests complain about the historic rooms at the Old Faithful Inn.

Complain?!!? About WHAT?

He noted that because it is an old building, they get LOTS of complaints.

I stood there in disbelief.
Our room was absolutely perfect - with the six windows open to the cool Wyoming air.....the bathroom the size of last night's cabin....the footed tub and marble sink....no television to hypnotize the kids....the 7 story lobby with leather chairs and gigantic stone fireplace - did I mention the cool Wyoming air? ....
- I had already noted to the family that we were not leaving until the hotel made us leave. I was in absolute heaven. (WELL worth my $155!)

It was June and of course I could not book an additional night at The Old Faithful Inn with such late notice. So I wandered off to take more pictures (which really don't truly capture the magic of the Inn).
Plus, I need a better camera and a photography lesson - but we won't go there.
The architect, Robert Reamer, was 29 when he designed the Old Faithful Inn in Yellowstone. It was completed in 1904 (and took only one year to build - way back then!) I asked the tour guide (of COURSE I took the hotel tour!) about power tools -A steam powered saw was used for part of the construction.
Reamer wanted the hotel to match the surrounding woods, so he pitched the lobby ceiling to 76' to reflect the surrounding forest. (Absolutely beautiful vaulted ceiling - all log timbers.) The area is full of 'lodge pole pine trees,' which are perfectly straight and perfect for construction (think of indian teepee poles, too).



Some of the construction workers scoured the nearby forests for galled or deformed trees to use, as well. Those were used for detail work - posts, supports, balusters, etc.
One other fact I found interesting was that Reamer wanted the bark left on the wood to really keep the "forest feel." After a few years, the bark was removed from the interior of the hotel because it kept getting darker in color and removing the bark lightened the lobby. (or maybe the bark was high-maintenance and hard-to-dust and chipping everywhere - what do you think?)

I love the old photos.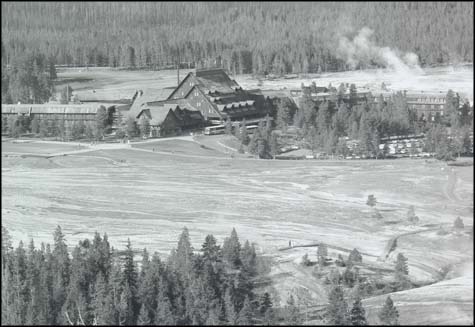 Photo courtesy of www.nps.gov.



Well, a week later and I am back to reality in Georgia, now. It is literally 97 in the shade. No cool Wyoming breeze coming through my windows, today!
Participating in the blog party at
Hooked on Houses.